Garbiñe Muguruza is US Open favourite but Johanna Konta remains 'contender'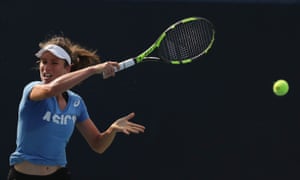 It should not take long for this US Open to deliver either excitement or what, in another era, would be considered an upset. With any one of eight players capable of finishing the fortnight as the world No1 after the withdrawal or absence of 10 contenders of varying threat, neither the favourite, Garbiñe Muguruza, nor the returning Maria Sharapova will be allowed the luxury of complacency.
Muguruza, still glowing after her Wimbledon triumph but seeded third here, sets it rolling in the Arthur Ashe Stadium on Monday morning against the American Varvara Lepchenko, and thereafter can peruse a side of the draw that includes the former finalist Caroline Wozniacki, the ageless Venus Williams, the unpredictable world No2, Simona Halep (whose first test is in the main evening match against Sharapova, who has won all of their six matches) and Johanna Konta, Britain's best – in either the men's or women's draw after the late withdrawal of Andy Murray on Saturday. 
Konta, who rejects criticism by Chris Evert that she has had a "disappointing" lead-up in Canada and Cincinnati, opens Monday proceedings on the Grandstand court against the Russian Aleksandra Krunic who chooses to live in Serbia and whose best performance in four visits to Flushing Meadows was reaching the fourth round in 2014.
Konta, the world No7, well remembers her last appearance here when she collapsed on court in tears after heat exhaustion struck during her second-round match against Tsvetana Pironkova. She still went on to reach the fourth round where the Latvian Anastasija Sevastova stopped her in two sets. This time she hopes it will pan out with complications.
"Physically I feel pretty good," she says. "Once you get to this stage of the season you do feel the travelling. You do feel a lot of miles under your belt. I actually feel pretty good, I feel excited. I'm still very clear and comfortable with how I am on the court – physically, mentally, emotionally I am pretty good." As for her own ambitions of reaching the summit of the rankings in the absence of Serena Williams, Konta laughs. "I just find it so funny. You just hear it so often: potential this and potential that. So many moving pieces."
Nevertheless she agrees she is "a contender" (having been informed that was a reference to the famous Marlon Brando line in the New York-based On The Waterfront). She says: "I know you guys talk a lot about the women's game is so open. Generally, this year it's been pretty much the same names. We don't have a big four but we've got a big 10."
Sadly for Heather Watson that ranking is a long way away after her dispiriting dip in form, which she appears to have reversed recently. Certainly she is as upbeat as ever before her first match, against the combustible Alizé Cornet of France.
Watson's season ambition is to get back inside the top 50 from her current position of 74, having briefly fallen outside the top 100. "She's a tough one, a fighter, good at making a lot of balls," Watson says of Cornet who, it is fair to say, is not one of the most popular players on the circuit.
"I'm quite good friends with her off the court. I've never had any bump-ins. But she has been a bit controversial on court sometimes. I think that's because she's quite emotional. She shows her emotions on court – whether it's good or bad." Providing she can bring her recent form to the big stage Watson must secretly be hoping for the "bad" Cornet to turn up and implode, although her second match would likely be against Petra Kvitova – and the Czech still has plenty of game after her enforced absence from the Tour last year.